I'm doing an album on a budget. That being said, I had this great idea to name it "The Mrs." and have my wife on the cover. I knew what I wanted but wasn't sure how to make it happen. I told my wife my idea and we started to plan. I should note here that we both have degrees in graphic design, her specialty being in photography, we talked about it and decided that we can do everything ourselves except make up. 
Our plan: Iron our white sheet, put it up over our book case, set up her camera on the tripod and then she would tell me what to do to get a great photo.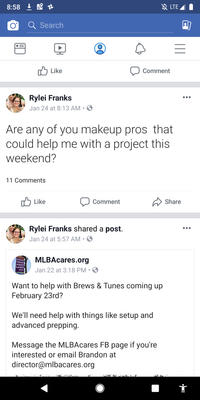 For the makeup we needed help, so I put a post on my Facebook asking for help from anyone who was willing. Her hair stylist couldn't help but she knew some people--as most hairstylist seem to do--and hooked us up with her friend Kennedy Clark. After talking to Kennedy, we were able to figure out a date and get it in the books.  
The day before: 
The day before the photo shoot I had a friend over to go over some songs I had been working on. After doing some work we ended up hanging out all day and when we brought up the fact we were doing a photo shoot I remembered he had some industry experience in photography. Of course, I asked him to help us and he said he would.  
The day of the photo shoot: 
It was the day. we got up, I ironed the sheet one last time and we went over lighting before we left to the makeup studio. I dropped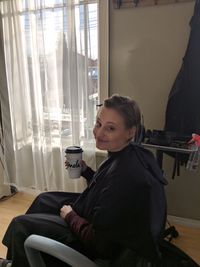 Briana--my wife--off at the studio and went on a coffee run. When I came back I talked to Kennedy about what I was looking for. I have to say she is a true makeup artist, she got my idea down perfect. She was nice to work with and at the end did a little PR for my social media. 
Once home, I set up our "photo shoot studio". It took some ingenuity and I'm so glad I had Taegan there to help. The natural light wasn't working for us, so we grabbed all of our lamps, took the lamp shades off, and grabbed an extension cord. We moved our lamps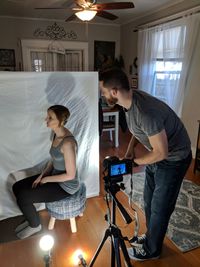 around the house to get the perfect light and then started positioning Briana for the shoot. Taegan and Briana were great, they're both perfectionist so I felt comfortable sitting back and watching them work together. I would pitch the ideas and help move lights but other than that I was just the idea man. After about two hours of working we felt we had enough shoots to work with. We picked up the studio and transformed it back into our house and went out to a late lunch. Over lunch we picked out a few great shots and went over the ideas of what would look good.  
Over the next few weekends when I got time I would work on the cover art and this is what I came up with.