Home is where the Music is.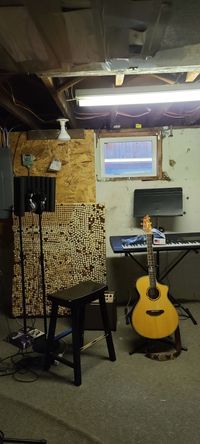 As I sit in the silence of my basement moving a load of laundry. I realize, since Covid-19 hit the US, I haven't played my guitar in months.  I pick up my guitar and my mind bursts with innovative words, strumming patterns and finger picking styles I can't remember ever playing before. As I look around I realize my home studio needs an upgrade. So I looked to the online blogs. 
I read on Cdbaby's blog how musicians are putting out a new song every week. Also how they've revamped their space to be able to afford to do such timely projects on a budget.  Though putting out a song each month is a great goal, I know its a bit lofty for me. So my next move was to create a place where I can record my songs at a studio level.  
The cork board idea. 
I wanted to make my studio better but on a budget. Over the years of playing I had made friends and really good acquaintances with local wineries and wine coinsures. I put out a post on my social media sites asking for wine corks. My goal to make sound reduction boards with wine corks. Before I knew it I had 3 trash bags full of wine corks. Now I needed something to put them on.
My goal is to make many more boards. If you would like to donate corks please find me on my social sites or use the contact page to get in touch about giving your corks away.  
Michael Jackson's Mic. 
Last year I put out an album called The Mrs. For this album I wanted to get a really good vocal mic as I have been working with the mic that my dad bought me 5 years ago. Not that the mic I had was bad but I wanted to upgrade my sound. I noticed over and over a mic being used in live music videos. I figured if these big names are using it I couldn't go wrong with buying it. The microphone turned out to be the SM7B. With some light google research I found out that Michael Jackson used it for the vocals on thriller and a few of his other songs. So I bought it. Turns out though, this mic needs even more power than the standard phantom power built into most audio interface, like my Focusrite Scarlett solo 2nd gen. Back to the internet I go for more information. After reviewing the specs on the mic one more time. What I needed to make it work properly was a phantom booster called the Cloudlifter CL-1. There were other options but I really liked the slim design and how easy it is to use.