It was a cold windy February day. I was performing at the Moses Lake Brews and Tunes beer festival. My friends, (Taegan, Carmen, and Jordan)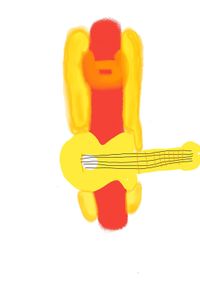 all toured the festival as I played. At every show I explain how my name is spelt. Only because it's so hard to spell correctly. After I spell my name out I say, "Franks like the hotdog". Well, my friends have heard me say this numerous times but it must have been the festival tour that got their creative juices flowing.
On a break,  Taegan came up to me and said he had the best idea ever. The idea was to make a cartoon  hotdog guy who had my look. For those who haven't seen me perform. I usually wear a newsboy hat, suspenders, bow-tie and leather boots when I play. While brainstorming he drew up a rough draft on his phone and sent it to me.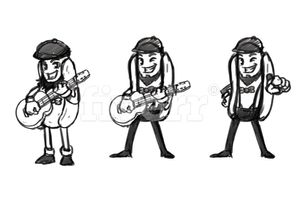 After a few weeks of trying to draw the character ourselves we decided to look for help. I heard about a website called Fiverr.com and found a great artist. We corresponded a few times telling him what we wanted the hotdog guy to look like.
He spent about a week on it and sent me 3 images pictured to the left. I decided to have a little fun with it and put those pictures on social media. I asked all my followers to vote for what one was their favorite. With the vote in we sent it to the artist and he took the second phase of coloring the picture. Again he sent me a few choices of color schemes and I put them on social media for a vote. I wanted to put it up for a vote because I thought the more interactive the experience the more people would be into getting the merch the cartoon was used on.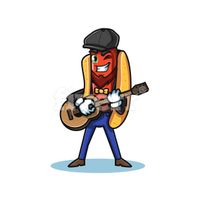 Once we finally decided what we wanted I passed that info to the artist and we finished up. Now the Hotdog man is on a shirt, and available as a decal. Check out the store to buy one. www.ryleifranks.com/store
If you would like to get your hands on some Franks like the hotdog merch visit my store by clicking the link on the left or click this entire sentence. 
Franks for reading,
---Rylei